Hi a newbe here. How can I use the hiking track in Mapking 2007?
Puchong Air Hitam Forest Reserve (UPM)
There is jungle trails inside this forest that puchong resident frequent. I recorded it since it was not inside malfreemaps database & share it here.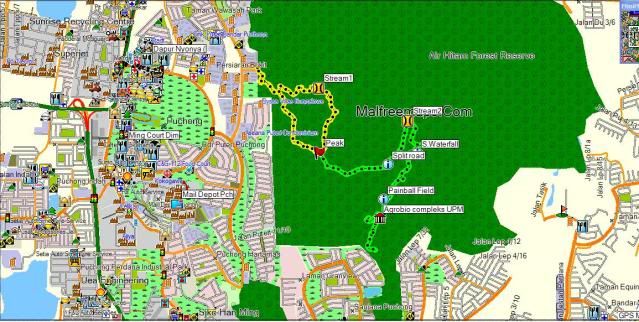 Beware though, this forest reserve belong to UPM & no trespassing allow, but puchong residen don't really bother & go in everyday. But normal folks usually take the yellow path & don't wonder off to other path.
I heard that there is a waterfall inside it, so i decided to explore it, here i take the green path & found the waterfall (it is not a waterfall actually, see photo) I travel further down the path, & came across a construction site inside the jungle, apparently UPM is building its Agrobio Compleks. I was thinking to exit the jungle thru Saujana Puchong, since it is very close already, but then i bumped into a UPM security guard & get stern warning, he threathen to call the police because we r trespassing. He would not allow us to exit thru Saujana Puchong & instruct us to go back from where we came in. We walk some 2 hours to reach there, but this mean guard ask us to go back, it was already 5+pm. We have no choice but to walk back, it was already dark & visibility is low inside the jungle as we struggle our way back, luckily we brought our tourchlight, if not we would have been lost in a dark jungle!
So i advice if any of you want to track inside this jungle, remain in the yellow path only, if you really want to go to the green path, remember it will take approximately 4 hours to go out again, bring your tourchlight, don't go alone, and don't go any further than the paintball field, chances of getting caught is high beyond this point,you would rather bump into wild animal then bump into those mean guard.